Ti Thermal imaging are proud to announce we are now registered as an approved JSRS supplier to the Oil and Gas sector in Oman.

The Joint Supplier Registration System is a National initiative in Oman which encourage credible suppliers – national and international to supply products and services into Oman's Oil and Gas Industry.

Click to view certificate – JSRS Registration Certificate – GB100086

Ti Thermal Imaging have vast experiance working with Oil & Gas Companies worldwide.

Our thermal imaging services have been a proven method to increase asset safety by the early detection and prevention of electrical and mechanical incidents.

– Non-invasively detecting loose bus-bar bolts and faulty SCR units as part of your rigs' annual PM requirement

– Identifying loose terminal block connections, failing fuses and load imbalances to reduce accidental shut down and fire risk

– Monitor bearing temperature at mud pump shafts during high-pressure pumping

– Assess connections in mud pump and draw work terminal boxes

– Determine equipment suffering from drive shaft misalignment problems

Identifying and measuring sediment levels

The use of thermal imaging on process equipment such as vessels, separators and tanks can span numerous applications from internal fluid or sediment levels to insulation integrity and other structural issues.

Our purpose built TICOR™ measurement module can not only indicate where sediment levels lie within a vessel or separator but accurately measure them and offer a cm and % level which is fully trendable between inspections. This will offer you the ability to accurately assess sediment deposits during the initial inspection then to monitor changes during subsequent periodic inspections.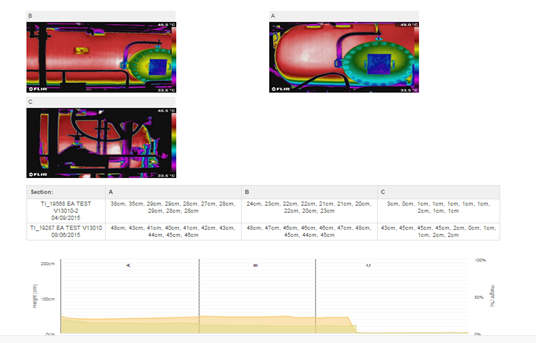 The TICOR™ measurement module is an exceptionally efficient and fast method of providing detailed thermograms of this type of equipment and it provides comparative graphs for each periodic inspection